Resilience in dogs – Seminar by Kristina Spaulding, 27 & 28 April 2024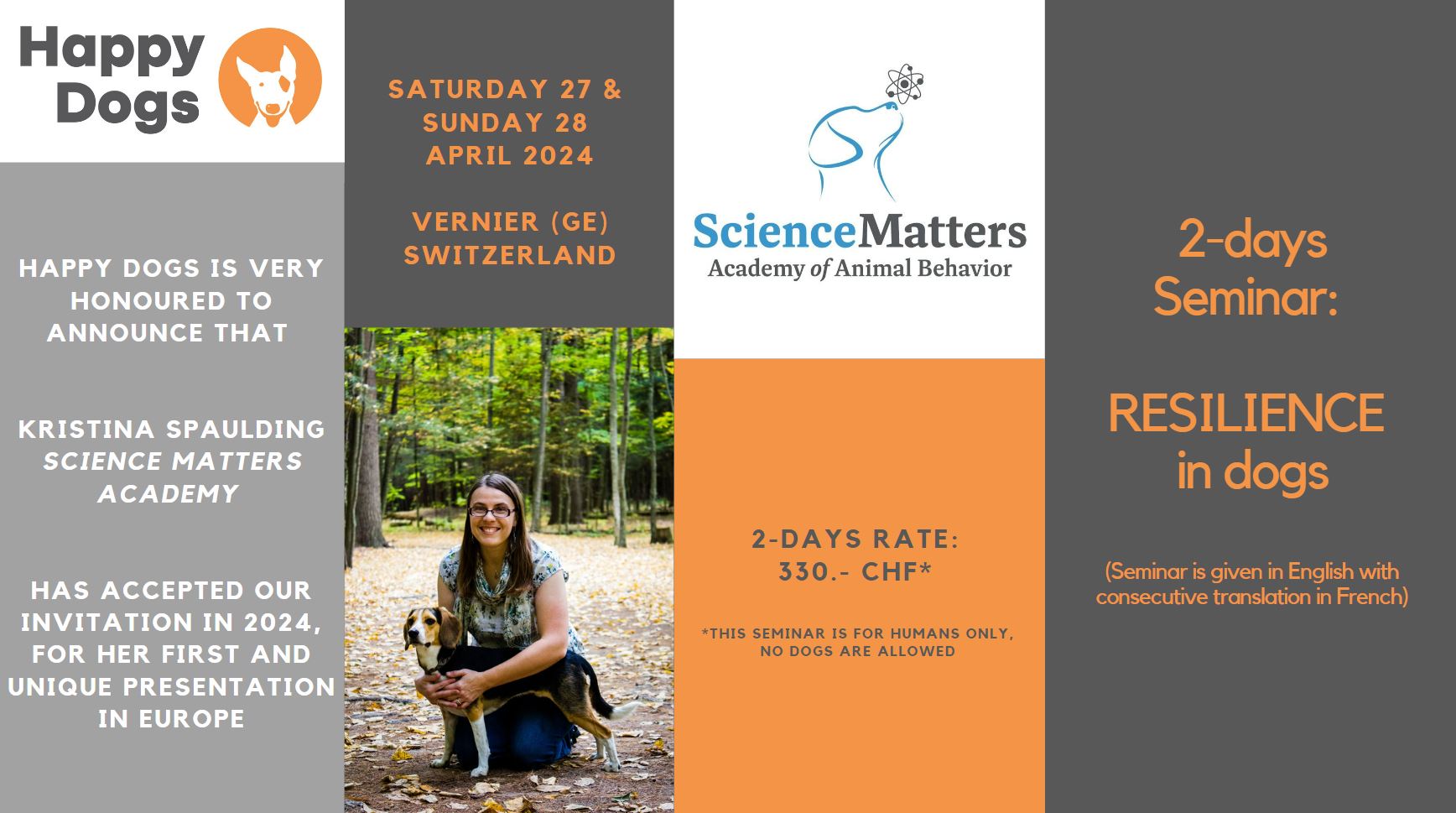 For her first seminar in Europe, we are honoured to announce that Kristina Spaulding has accepted our invitation to give a seminar at Happy Dogs in 2024 on the fascinating topic of resilience in dogs!
Stress and its effects on dogs are often discussed but how can we help dogs overcome stress and become more resilient? This seminar will cover several topics:
– How does stress affect the dog?
– Why are some dogs more « reactive » and emotional than others?
– How do dogs self-regulate their behavior?
– What determines a dog's impulse control/focus/emotional regulation?
– What is resilience in dogs?
– Why are some dogs more resilient than others?
– How can we help dogs develop resilience?
Dr. Kristina Spaulding – Science Matters Academy of Animal Behavior LLC – has been in the dog training and behavior profession for over 20 years. She has a PhD in biopsychology—the study of the biological basis of behavior—and is a Certified Applied Animal
Behaviorist. She taught college courses in psychology for several years and is currently a co-instructor for the graduate level course in Animal Behavior Consulting at Virginia Tech.
Dr. Spaulding teaches a variety of online courses and webinars on the science of behavior and is the author of « The Stress Factor in Dogs: Unlocking Resiliency and Enhancing Well-Being ». She
regularly presents on canine behavior science at conferences and other events. In 2019, Dr. Spaulding received the Association of Professional Dog Trainer's (APDT's) Member of the Year Award. She currently serves on the IAABC Foundation Board.
REGISTRATION: HERE
Organiser : Happy Dogs, Education canine
Location : Vernier (GE), Switzerland
Dates : Saturday April 27 & Sunday April 28, 2024
Accommodation : nearby hotels
Lunch : fridge & microwave available / restaurants nearby
Parking : on site & nearby
** This seminar will be given in English, with consecutive translation in French. It is for humans only. Dogs are unfortunately not allowed in the room. **
Approximate schedule:
8:30 am: Welcome coffee & croissants
morning: 9h00 -12h30
afternoon: 1:30 pm – 5:00 pm
Prices (without dog):
2-days rate: 330.- CHF (100.- CHF deposit on registration + balance to be paid by Dec 31, 2023)
Your registration will be validated upon receipt of your deposit (non-refundable).
Pre-requisite: None
Included: Course material (French or English) and certificate of attendance.
Cancellation policy:
– « Early Bird » rate: no refund (place exchangeable with another person)
– Normal rate: before December 31, 2023: 100% refund (excluding deposit)
– after December 31, 2023: no refund
To obtain bank details or for any other information, please send us an email to: HappyDogsGeneve@gmail.com